Save Thanksgiving – Washington Times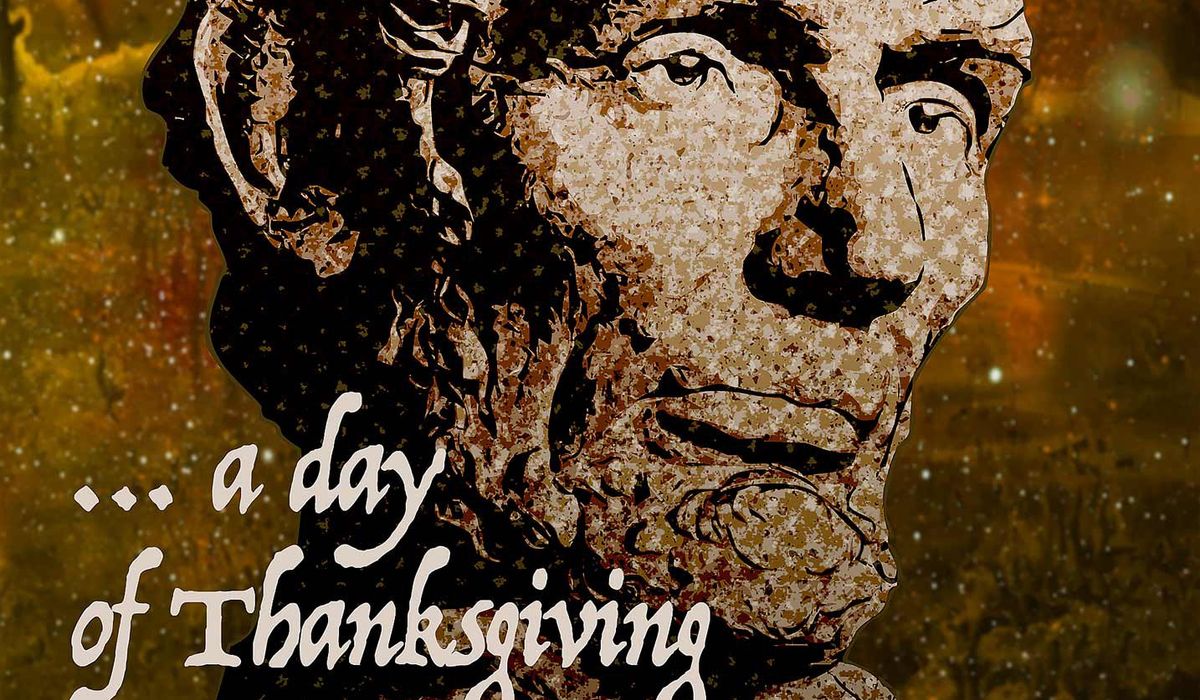 OPINION:
One of the principles of conservatism is the conservation of things. Conservatives are environmentalists. Yes, we believe in clean air and clean water. Yes, we believe in hugging a tree every now and then or maybe even an owl or a whale. We manage our livestock and our land well, not just out of prudence but on principle. We know that one of God's first responsibilities to mankind was to be good stewards of God's creation. The Conservatives are keeping what we have been given. The Conservatives are keeping what is ours.
In addition to understanding the value of our fields and our waterways, the Conservatives recognize something equally important to human existence. We believe in the importance of ideas, and we believe that they too should be preserved.
Some truths should just be left untouched and honored. Like a good wine, certain concepts improve with age. They have stood the test of time. They have been defended by reason. They were confirmed by revelation. They have been validated by experience. Some ideas have been so vigorously considered and well articulated that they should be left unchanged and approached with humility and respect. Some things just need to be kept and not changed.
As we prepare to celebrate this next Thursday with our family and friends, we have one of these ideas ahead of us.
Consider the following.
"The year that is drawing to a close has been filled with the blessings of fertile fields and healthy skies. To these benefits which we enjoy so constantly that we tend to forget the source from which they come, we have added others, which are of such an extraordinary nature, that they cannot fail to penetrate and to dissolve. 'even soften the heart which is usually unresponsive. to the ever vigilant providence of Almighty God.
"In the middle of [strife] … which at times seemed to foreign states to invite and provoke their aggressions, peace was preserved with all nations, order was maintained, laws were observed and obeyed, and harmony reigned everywhere except in the theater military conflicts …
"The necessary diversions of wealth and forces from the areas of peaceful industry towards national defenses have not [yet substantially] stopped the plow, shuttle or ship; the ax has enlarged the frontiers of our settlements, and the mines, both of iron and coal and of precious metals, have given even more abundantly than before.
"The population has continued to increase, despite the damage that has been done in the camp, the siege and the battlefield; and the country, rejoicing in the consciousness of increased strength and vigor, is allowed to expect the continuation of the years, with a great increase in freedom.
"No human council has designed nor a mortal hand has worked out these great things. These are the gracious gifts of the Most High God, who, while treating us with anger for our sins, nevertheless remembered mercy.
"It struck me as appropriate and appropriate that they be solemnly, reverently and gratefully acknowledged with one heart and one voice by all of the American people. I therefore invite my fellow citizens in all parts of the United States, as well as those who are at sea and those who stay abroad, to set apart and observe the last Thursday of next November, as a day of action. of thanks and Praise to our beneficent Father who dwells in Heaven.
"And I recommend to them that by offering the attributions which are rightly due to him for such singular deliverances and blessings, they also do so, with humble penance for our national perversity and our national disobedience, recommend to his tender care all those who have become widows, orphans, bereaved or victims of the lamentable civil war in which we are inevitably engaged, and fervently implore the intervention of the Almighty Hand to heal the wounds of the nation and restore it as soon as possible with divine designs for the full enjoyment of peace, harmony, tranquility and union.
– Abraham Lincoln, October 3, 1863
Some stand-alone ideas; strong, sure, unchanging, enduring and true.
"Thanksgiving and praise to our gracious Father who dwells in heaven… To offer the attributions which are justly due to Him for His singular deliverances and blessings… Humble penance for our national perversity and our disobedience… Fervently implore the almighty Hand of heal the wounds of the nation. "
Some ideas do not need to be refuted.
Some ideas do not need to be debated.
Some ideas just need to be kept.
Happy Thanksgiving!
• Washington Times columnist Everett Piper (dreverettpiper.com, @dreverettpiper) is a former college president and radio host. He is the author of "Not a Daycare: The Devastating Consequences of Abandoning Truth" (Regnery) and, more recently, of "Grow Up: Life Isn Safe, But It's Good".